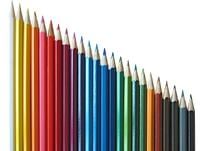 Our power word for job seekers in 2011 was LEVERAGE. We used it (and still use it!) in multiple ways: "Joe leveraged his people skills to turn around morale and retention in a team demoralized by multiple layoffs." Or: "Joe leveraged the group's expertise in project management best practices to collaboratively establish the company's first formal PMO."
We love "leverage" because it is able to say so much in just one word and because it is a "body language" word. We can feel what it's like to lift something up with the help of something else (a lever). It's also a word that teaches us about something we can do in our personal brand or our job. For instance, we can use one of our brand attributes to empower us in doing our main job. This attribute may be a strong differentiator for us as a candidate or as an employee.
Our power word for 2012 is ALIGN. It is defined by Meriam-Webster as:
Transitive verb

1. to bring into line
2. to array on the side of...
Intransitive verb
1. to get or fall into line
2. to be in or come into precise adjustment or correct relative position
For example: "The school had to align their programs with state requirements," or "She is aligning with other Senators to oppose his nomination."

Why is "align" a useful word for job seekers? Because employers are looking for applicants...
who are aligned with the values of the company
whose actions are aligned with their own personal brand
who can (for example) align IT with the business objectives of the organization
"Align" can say so much in one word. It can say that the person's personal brand is unified and internally and externally consistent or that the person's work lines up with the values and goals of the organization.
"Align" is a "body language" word too. We can feel in our muscles what it is like to line up with or become parallel to something else.
So here's to 2012! May you align your actions with your core values. May you align the work of your group with the overarching goals of your organization. May you become aligned with a path that will enable you to reach all your personal and professional goals.