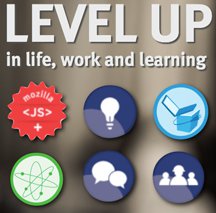 Mozilla, the MacArthur Foundation, and HASTAC* are working on a new model for standards and credentials in learning and job performance called Open Badges. Proposed digital badges allow people to know you by your achievements and contributions, not just your reputation and credentials. Badging represents an innovative alternative to traditional credentialing and takes its inspiration from open source software development.
What is unique about badging is that it gives the individual job seeker an opportunity to be promoted or hired on the basis of actual accomplishments and on-the-job work attributes. Too often people's lack of a specific kind/level of education, training, or traditional work history get in the way of their getting hired. Promotion and hiring are usually based on whether an individual meets a specific standard profile desirable for a specific position. Badging allows for an end run around all that.
Here's an example from Cathy Davidson on HASTAC: "If I'm engaged in a project with someone who does an exemplary job, I can award credit whether that person happens to have a Ph.D. from MIT or be a brilliant sixteen-year old programmer in Gary, Indiana—or Nairobi." You can see that badging could be a major leveler across populations at home and across the globe.
Another key feature of badging as proposed is that it allows teams to recognize social, collaborative and other "soft" skills that may be critical to the success of a project but often discounted from hiring decisions.
The grassroots nature of the proposed model would enable a mutiplicity of badges from many different organizations, whether they be professional, industry, nonprofit or corporate. Sounds chaotic, but badging is an innovation that breaks down traditional barriers and encourages individual initiative. Rather than having your employment fate hanging on traditional resumes, education, work history etc., you can activily earn recognition that explicitly confirms the contributions you have made. Open source programming has models for ways to prevent cheating and gaming the system.
This is a bottom-up rather than a top-down initiative, with elements of Facebook, crowdsourcing, Twitter, citizen journalism, YouTube, Amazon product reviews etc.
What would a badge system mean for your career brand and your job search? I think it would provide stronger evidentiary support for your brand. It would provide more validation for talented people with portfolio careers or non-linear career paths in job search. It would give weight to non-traditional learning and experiential learning.
Badging, as an alternative form of credentials and standards, is a good match for millenials, in particular, who are already viewing their careers in a more flexible light. Millenials view work more creatively - not the traditional "climbing the ladder" - but moving around to different jobs following interests, making lateral moves, interrupting their work with volunteer or entrepreneurial stints, mastering new skills or content informally.
Keep your eyes and ears open for this revolution in assessing mastery. It just may open up job and career opportunities you had assumed were closed to you. What do you think of the idea of badging? Do you think it could work?