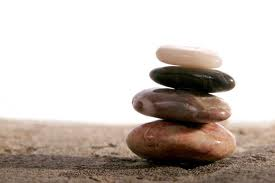 As I was driving home Sunday from a weekend away, I tuned into an NPR interview on the radio. He was taking about stress-free productivity. Something job seekers need desperately! Along with everyone else practically! His ideas sounded oddly familiar...
Yes, it was David Allen of Getting Things Done fame. I'd read it years ago - it's a classic in the field of personal organization - and used the system for awhile, then fell away (alas, the end of most good intentions). But his words about having too many different kinds of things to do on our minds causing significant stress resonated big time for me.
So I pulled out my iPad when I got home and did what he said to do: take everything on your mind and write it down in a way that makes sense to you. And then have a system for checking it and also for continuing to enter anything that is a to-do and that preys on your mind. I used Notes but there are lots of apps I will explore. (Put that on my list!)
OK, I did that. The rewards Allen promises are valuable: the ability to be highly productive and react in perfectly appropriate ways to stressors. He describes the "mind like water" that martial arts practitioners use for perfect readiness and power.
I think daily pauses (mini meditations if you like) for deep breathing and contemplation of a serene image (water receding from the beach, then rolling in again, for instance - my image) help get us into that frame of mind of poised readiness and response.
Looking for your next job involves a myriad of things to do and keep track of: executive resumes sent, personal branding initiatives, targeted cover letters written, networks contacted, appointments planned and kept, research on companies, interviews planned and attended - all with various schedules and levels of importance. What better time to apply Allen's ideas?
The Zen job search would be one conducted with full confidence that you had the bases covered and WRITTEN DOWN according to your system, so that you can act from a place of calm productivity.
The Zen interview is when you can bring a mind open and a readiness to respond to the interviewer with calm interest, quiet confidence, generous openness to the other person, and keen listening (to hear the subtext of questions), and make an appropriate on-brand response that speaks to the employer's needs. A Zen mind is also ready to ask insightful questions and proactively project its personal brand in appropriate ways into the conversation.
So, "mind like water," T.S. Eliot's "the still point in the turning world," and Yeats' "I hear lake water lapping, with low sounds by the shore." Now we are ready. Bring it on.