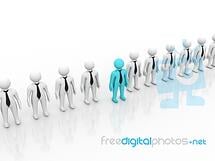 When people first hear that they need a "personal brand" to get a job, they often can't relate. First they think, "I am not a consumer product. The whole idea of branding myself turns me off!" And then they worry about how they are going to get this foreign thing, this personal brand, so that they can compete in the job market. They assume that their personal brand is going to be hard to figure out on their own.
There is a shortcut to going through a long process of personal branding. (Please note here that I am a Certified Personal Branding Strategist and have seen the incredible benefits that come when an individual goes through an in-depth process of self-discovery with a strategist!) But it isn't for everyone.
This personal branding shortcut is for people who are short on time, money, and/or interest and who just want to be as competitive as they can be in looking for their next job.
Here's what to do. Answer the following three questions and then use those answers in your resume, both in the Summary section at the top of the resume and in the body of the resume itself. And Voila! you'll have a personal brand that will serve you well.
1. What do people value you for most at work? What would they miss the most, in terms of getting work done, if you weren't there? What do people turn to you for?
2. What is your value proposition? Define this in terms of your ability to contribute to reducing costs, adding revenue, increasing profit margins, streamlining processes, reducing time-to-market, improving internal and external client satisfaction, enhancing user experience, innovating to add new functionality or revenue streams, amping up team performance, reducing risk etc.
3. What five adjectives would people use to describe you? Things like leader like, entrepreneurial, smart, creative, international etc. Pick the ones that have particular bearing on helping you be successful at work.
Then, at the top of your resume, after your name and contact information, center your title - that is, your job or the job you are seeking. Underneath your title write a sentence about how you typically add value to an organization, your answer to #2. Center it and put it in bold. This is the most important piece of a brand to an employer, for obvious reasons.
Then, in a brief summary paragraph or set of bullet points in the top third of page one, include answers to #1 and #3, along with your other credentials.
Then be sure that you demonstrate your value proposition (#2) in the achievements you talk about in your resume.
If you can't think of the answers to any of the three questions above, ask your co-workers for their take on what makes you special, unique, and valuable to an organization.
This quick start guide to do-it-yourself personal branding may be sufficient to accurately and authentically differentiate you from your competition and help you get your next job! Good luck with it - and let me know how it goes!