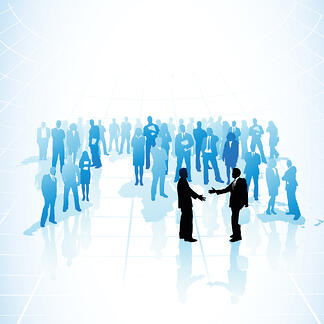 LinkedIn profile writing is a challenge. And there are ways in which the LinkedIn profile summary section is still the Wild West. The LI summary is a blank page only restricted by the 2000 character limit. There are no requirements for anything in particular, such as listing your jobs and dates. So why is it important to worry about this? And what should you do?
People know that LI is the premier business networking site. It also happens to be an almost-mandatory place for recruiters to check before exploring possible job candidates further. In addition, it provides a fairly comprehensive database of potential candidates that recruiters can search by specifying desired keywords.
Because, for professionals and executives, LI is now so critical to getting their next job, they are naturally very sensitive to how they present themselves in the summary section. And when they do a Google search on how to write the summary they may find advice and examples that run counter to how they want to present themselves.
This link will show you the typical recommendations and examples career-minded individuals will see when they look to the Web for advice on writing the summary:
http://www.businessinsider.com/what-to-say-in-your-linkedin-summary-statement-2014-12
LinkedIn best practice for writing the summary is to use the first person singular, that is, use "I" throughout as opposed to "Ms Jones" or using the hidden 3rd person voice such as we use in resumes ("Worked for 20+ years...") So what's the problem?
Some people are just plain uncomfortable with the more personal tone of the first person voice. They may also feel that use of the first person "I" places too much focus on the self and is not modest enough in tone. Does the fact that best practice is to use "I mean that they should bite the bullet and go out there in public with an expression that feels unnatural, uncomfortable, or even inappropriate to them? No, of course not.
That being said, there are good reasons for using the personal "I" voice. It can invite the reader in to get to know you. It can convey personality, character, and other elements of your personal brand much more easily and naturally than the more impersonal, distancing voice of the 3rd person "he/she" or the more formal resume voice.
Summaries using "I" are more apt to be interesting and engaging. That is good! As in every other type of communication including ads, articles, movies, and TV shows, the personal and the emotional "sells." Even if you inject just a little more engaging direct and self-revelatory content into your LinkedIn profile, the recruiter who finds you on LI may become more interested in you and more motivated to read on.
Done sloppily, the first person LI summary can of course turn off the recruiter who may view the tone too informal or too personal.
Tricky, huh?
So, on the horns of the dilemma, this is what I recommend. Use the first person "I" in your LI summary if:
a) You can do it skillfully, professionally, and engagingly. If not, revert to one of the other options.
b) You feel comfortable doing it. If not, revert to one of the other options.
If you choose the more formal approach for writing a LinkedIn profile, you may be giving up some competitive advantage. But probably not so much that it's worth being ill at ease with how you present yourself. Good luck with this!
If you have trouble, contact me at jc@get-job-offers.com or another professional LinkedIn profile writer for help.