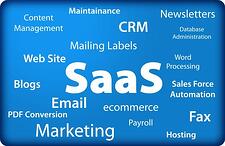 As a follow-on to my last post on the impact of cloud computing on the IT jobs landscape, here are a list of jobs predicted to emerge as one aspect of the cloud - software-as-a-service or SaaS - becomes even more widely adopted. If you work currently as a traditional software programmer or support back-end systems under the leadership of a CIO, take note of the opportunities emerging as discussed in CIO Magazine's article on: "What SaaS Means for the Future of the IT Department."
Programmers: Less demand for software programming and more for Web 2.0 and Java skills along with knowledge of open Web standards, as the trend toward Web-mediated application delivery and mobile computing accelerates.
For the large numbers of IT support staff out there, who primarily keep ERP systems running, support the infrastructure and the back end, you may no longer be working for the company you're with. The jobs will be at the SaaS vendors: roles integrating different SaaS solutions for a customer or working in the data center.
Large-scale adoption of ERP delivered as SaaS may be slow, however, due to the complexity of the inter-relationships between applications. Single application SaaS is booming though, and here is a recommendation as mentioned in CIO Magazine's article worth serious consideration:
"The SaaS trend will force many IT professionals to rethink their skills and the value they bring to their companies, says Jeffrey Kaplan, president of THINKstrategies, a consultancy that helps companies adopt SaaS applications."
Translated, what this means is that you need to build your career brand around the skills in current demand and your unique value proposition. I never write an IT resume that doesn't showcase my client's value prop - and you shouldn't either. For more on branding, click here.