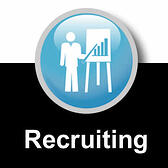 Have you caught up yet? I am amazed that there are CIOs of big companies out there who don't have a built-out LinkedIn profile - just name, photo, and employers. At a recruiter round table a couple of weeks ago, sponsored by the New England Network of the Association of Career Professionals International, the new picture of recruiting emerged. Successful job seekers will proactively be where recruiters are looking for talent. Here is some of what these three recruiters said and tips for being a successful candidate:
1. They want to find you in a Google search. Have profiles on Linkedin (LI), Twitter, Facebook, ZoomInfo, About.me, at a minimum.
2. They will look for you on LinkedIn. Be there - both with a profile and membership in relevant industry groups.
3. They want you to have a 100% complete LI profile. Also, get an edge by adding video, audio, PowerPoint presentations, etc. using apps available at the bottom of your profile.
4. They will look to see who your connections are and if there are any that work for their company. Then they will go through that employee to talk to you, if interested. Expand your LI network continually.
5. They will see what you are doing on Twitter and Facebook. Curate your content with an eye to your professional image.
6. Many recruiters no longer pay Monster and CareerBuilder, because they can source great candidates through Google searches, LI and social networking sites. So spend your time there.
7. They still do find some candidates on indeed.com, a job posting aggregator. So put your resume up.
8. They try to hire from within and develop employees, if they can. Have you explored that possibility where you work?
9. They rely on employee referrals for good candidates. So the more networked you are, the more likely it is that you will be known by someone in the company. Work towards 500 connections on LI. Expand your Twitter following.
10. They want you to have 10 out of 10 of the skills they are looking for. Build towards those as you manage your career.
11. One of the recruiters said she doesn't look at unemployed candidates. The other two said they certainly will. They understood that the recession was an equal-opportunity layoff machine. If you have a period out of work, fill the time with meaningful volunteer work or consulting.
12. They want change leaders. What change have you managed, how did you do it, what were the results? Get this info into your resume, LI profile and other marketing communications.
13. They're moving towards video interviews. Have someone go through some interview questions with you while filming you on their smart phone. What can you learn about the general impression you give, your tone of voice and body language, your manner? Try to be energetic and engaging, with short pithy messages and stories.
14. They are using assessment centers, competency models, job simulations, 360s, and self-assessments to help determine who is the best candidate. No longer can people get hired on "a wing and a prayer." Take your career seriously and develop the critical skills your target job requires.
15. Jobs are still hard to get. Companies are not replacing some of the employees who leave. They are expecting more work out of those who remain (the jobless recovery). Be hard to replace at the job you're in.
16. Bright Horizons (childcare & other) hired 200 people out of 10K applicants. Get an edge in whatever way you can (see above). Also, be ready with a well-defined career/personal brand, a portfolio of marketing communications, a video, a robust online presence, and a valuable network.
17. They are catering to people active on LI, Twitter, and Facebook. Be there.
18. The workforce is becoming increasingly globalized. Expand your perceptions.
19. They are relying heavily on Web analytics and ATS (Applicant Tracking System) reporting. Submit a quality ASCII/text version of your resume, along with the Word version, if requested, to avoid transmission problems.
20. They want new employees to "hit the ground running." That means you need to demonstrate that you already have the skills required to start up fast.
Does this list seem overwhelming? It is, but it's the future. As you can see, even top IT leaders aren't always up-to-speed. But if you take these suggestions to heart, you will have an edge in job search now and throughout your career.