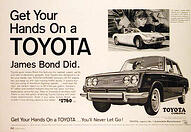 Why the resume as ad? To borrow a phrase from the campaign, do the math!
141 resumes submitted for each job (way too low an estimate IMHO)
Each recruiter manages ~22 openings at any one time (multiply times 141 for the number of resumes a recruiter has to process at any one time)
Only slightly more than a quarter of recruiters use applicant tracking technology; the rest have to visually scan resumes
Only 10 applicants on average are screened for a position *
So, do you think the thoughtful summary, job descriptions, and accomplishments on your resume are going to get read and that the material will prompt the recruiter to choose yours out of hundreds to be one of the 10 marked for follow up??
Here's what I think, having been in the resume writing industry for 19 years now. Today's resume – which has only 30 seconds to be reviewed by a recruiter – has to act like an ad. Look at an ad. What are some of the elements that make it work?
A brand - something that makes it memorable, the way Coke's brand helps it compete against Pepsi and generic colas
A tagline - to capture the essence or strong theme of the brand
Large letters to help the main message stand out, with smaller letters and fine print for critical details
A website to link to for more information on the product
A quote from someone or a picture of a famous endorser for the product
Color - eye-catching

Unique design and font - an ad tries to attract visual interest

It is possible, and even desirable, for resume writers to amp up their resumes with some of these elements. One way a resume should be different from an ad, though, is that white space, although necessary, shouldn't own so much real estate that there is no room for descriptions of primary accomplishments for each position.
(Please note: only a stripped down .txt version of your resume should be submitted where there is a chance that it will be processed by an Applicant Tracking System. Use your highly formatted resume for human eyes!)
With those points noted, let's take an ad's elements one at a time and consider how you would build some of its successful features into your resume:
The brand you are looking for is your career brand/personal brand. It is your industry, function, value proposition, and differentiator(s).
A tagline is a short phrase that serves as a quick handle for people to remember you by: "The technologist's instructional designer."
Large letters: go for size 16-18 font for your desired position as the "title" of your resume and 14-16 for your brand and tagline.
A website link, or LinkedIn profile if you don't have a resume – with a link embedded in the text towards the top of page one.
A quote from relevant third party to lend credibility, if you wish.
Color! Since most resumes are viewed online (laptop, smart phone, tablet), any color you select will help that part of the text stand out; use it for your brand statement and perhaps the main contribution in each position.
Font. Again, because most resumes are viewed online, you can be creative with fonts, design, and other visual elements, remembering to be more conservative for more conservative industries, such as banking, and more creative in marketing, design etc.
Click here to see examples of resumes that are a fast read with easy-to-grasp "reasons to hire." These are not extreme examples of the resume-as-ad and don't include every element of an ad, but they have enough to have attracted the interest of recruiters.
So don't hesitate to tap into the power of Madison Avenue to help your resume become one of the 10 selected by a recruiter for follow-up!
* Image attribution: Dell
** Statistics courtesy of HR Tech Blog