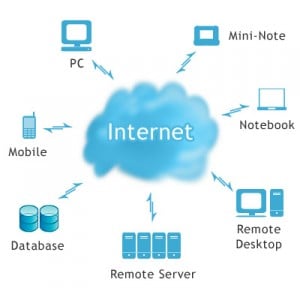 Trying to predict the future of IT jobs is...shall we say, like trying to predict the stock market - and we all know how that worked in '07!. But, even taking into account that "the only certainty is change," the general shape of tech landscape now gives us ideas about good directions to move in.
The newest factor on the scene impacting the size and shape of the IT workforce is cloud computing. Depending on whom you listen to, the job picture is either bad, good, or neutral. Brandon Butler in CIO Magazine quotes an authority who says that IT jobs will be lost, another that there will be more IT jobs, and finally concludes:
"What is expected is that traditional IT roles of managing software and hardware will no longer be needed in the new cloud-heavy world."
I think that is a statement you can bank on with certainty. Naturally, as the traditional roles of the IT workforce become increasingly automated and mediated through the cloud, they will become obsolete. And new IT roles will inevitably crop up in other areas, such as helping clients integrate with the company's platform. And jobs will grow with cloud vendors.
As a job search coach who works exclusively with IT managers and executives, I wrestle with how to advise my clients, given the uncertainty in the job picture (nothing new here). Here are some of the perspectives I've come up with:
1. You cannot afford to keep your head down and just work. You've got to be heads-up and constantly assessing the technology direction your company (and the market) is heading and whether your job will be part of it going forward. That also means reading industry blogs, following LinkedIn groups, and following IT thought leaders on Twitter, as well as general news feeds.
2. If you see where the jobs are going, start evolving towards them - either re-train, volunteer with the team doing the transition to cloud technology, or work with a mentor who can help you make a transition. Cloud computing, business analytics, big data, security, mobile - all are areas to watch now.
3. Build your interpersonal, relationship, and communication skills. They will be increasingly important as IT folks interface more with other departments (product development) and with clients connecting through the cloud.
4. Build your project management skills. PMI's PMP certification - Project Management Professional - is one that is fairly reliable at this time in terms of giving you a valuable credential.
5. Enrich your brand by becoming an expert in one aspect of IT that will be relevant for the foreseeable future. At the same time that it is desirable to differentiate yourself as an irreplaceable specialist, don't jump in with both feet. Keep broad competencies that will enable you to move flexibly towards the next change coming.
It's no small task - preparing yourself and your career for constantly shifting tides. But if you can stay smart, alert, and agile while feeding off the energy, excitement, and opportunity that come with any profound new technology change, you may be able to ride the waves and land a great new job!