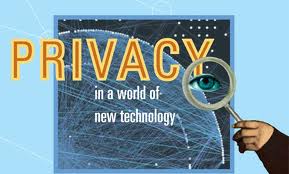 The other day, I had several messages from someone I didn't know. When I called the man back, he said, "Do you remember me? I was your census taker?" Then he went on to say, "I called you because you seem to be outgoing (I'm an introvert) and upbeat (hmmm), and you might be interested in a multibillion-dollar company I'm connected with. I told him that I have a business of my own, and he said that I'd be doing something completely different from what I'm doing now (he looked me up online). He said, "Let's have coffee" and "Here's a website to look at."
He was so mysterious that I went to a similarly unrevealing website that looked to me as though it was a pyramid scheme and the former census taker was just looking to harvest prospects (from people he met in the census, researched, and approached!)
I found myself taken aback that someone would use information he found that way (possibly illegally?). He had used what he found out about me online to try to enlist me in his scheme.
A second instance happened in my life this week too. This one related to the connection you make when you do an online video where you are speaking to your target audience. You put it up to address that audience. But it doesn't feel great to have someone not in that audience or in the industry make assumptions about you that they then act on.
Now that having a strong online brand is increasingly de rigeur for professionals, managers, and executives (and just about everybody!), don't we all become at risk of becoming known - not just by the employers who might want to hire us or the customers/clients we'd like to do business with - but by people willing to exploit what they have learned about us to try to manipulate us for their own ends?
I'd love some reaction to the following questions:
* Does anyone else out there feel uncomfortable at times that the whole world is able to find out what you are "known for"?
* Does having a video of yourself in cyberspace make you feel more vulnerable or exposed than text alone would?
* Where do you draw the privacy line in terms of what you put online?
* Is your personal brand something you want everyone to know, and, if not, how do you protect it and still get a job or do business?
Although it's a little strong for my experience with the ex-census-taker (or maybe not), a gospel verse popped into my head: "Don't cast your pearls before swine, lest they suddenly turn to attack you."
Personal branding is, or should be, all about authenticity, and as such, is revelatory of the "personal" as well as the brand. Isn't it the "personal" part that places an individual potentially at risk?
But, for all these concerns, is a personal brand kept out of the public domain, like the tree that falls unheard in the forest, a brand at all? Jean