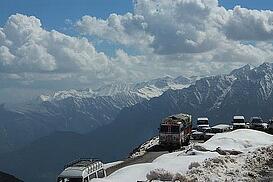 I couldn't resist the article "What Real Men Watch" in the Wall Street Journal, even though I should have been reading the business news! Turns out that the tv that's attracting upscale male viewers (accustomed to 8-12+ hours a day of offices, cubicles, and computers in the workplace) is reality tv described as "real men in danger" and "testosto-reality." Advertising dollars are flowing to shows like "Swamp Loggers," "Ice Road Truckers," and "Deadliest Catch."
You know, I'm a woman, but I can relate! What happens to our heads after days wrapped up in electronic, business, and technical communications - working exclusively in built spaces?
I watch my 2-year-old grandson aggressively driving his "digger" truck up the side of a dirt mound around the tree, pushing dirt in front of it until he can dump in over the other side. Very satisfying!
An element of danger, an encounter with the real resistence of the natural physical world, a great effort towards control of an unpredictable physical (not intellectual) reality - these seem to be the common elements of these shows that upper middle class guys are watching. There's a romance to blue collar jobs for them.
Where else can men who were once little boys playing with trucks in the dirt go for that element of raw physical risk and an experience of wrestling for physical control?
Some guys I know buy, repair and ride motorcycles. Go to race tracks. Fish offshore. Run sled-dog races.
My work is all about career management. This article makes me wonder about whether what men do in their leisure time isn't a critical part of peak functioning in a cubicle world. And that maybe what folks do outside of work has a very real impact on ability to survive and thrive in the day job.
I actually think that (some) women too may need an antidote to a day spent indoors interacting with iPhones, laptops, colleagues and clients.
What I do to get this elusive high is sail off the coast of Gloucester, MA - and the emptier the bay is of boats, the fresher the wind, the better. Freedom all around. Afloat in a wind-wave-water-tide-sky environment that can change instantly - and require a physical response to avoid danger.
When the sailing season came to an end, I felt a little desperate - what are we going to do to experience wilderness in the long cold months ahead? All I could think of was snow mobiling up in the New Hampshire wilderness - I've never done it, don't know if I'd like it, but there might be thrill in it.
Not that I don't love my work. But the truth is that it's so left brain - as is so much of what many of us do. I do get a chance to be right-brain creative, too, in my work. Still....there's something missing.
You hear so much about work-life balance. Maybe we ought to be talking more about work-thrills balance. Men and women who work in built environments, what do you do for thrills? Does your career leave you hungry for something more raw? Or not?