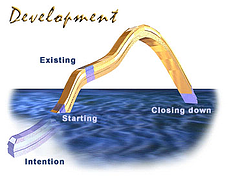 LinkedIn is having a great discussion about personal brand reinvention based on an article in the Harvard Business Review. Most comments have to do with someone changing dramatically from a software engineer to an artist, etc. But there's another kind of career reimagining that needs to happen for entrepreneurs who want to transition within their own industry.
Here's the scenario in which a job seeker MUST change their personal brand even if they're not changing their industry or even changing their chief competency: they've been running their own business for a number of years and now want to transition to being an employee of a company. It's doable, though not an easy sell.

Usually they can demonstrate extensive knowledge of the industry and superior capability in one or more functional area (usually more). But the hiring authority has concerns about whether a CEO / entrepreneur would be happy or committed over the long haul to working in a situation in which the org chart has clearly defined boundaries between jobs. Employers may have concerns that the entrepreneur would be reporting to someone else for the first time in a long while.

The imperative for entrepreneurs is to infuse their personal brand with elements that assuage those concerns while conveying an irresistible value proposition and even exalting their entrepreneurial experience as a competitive advantage in certain cases.
1. Brand Reassurance: Some of the elements of the new brand might be extensive experience consulting within companies, working with internal and external teams, reporting to program managers or other managers / executives, interfacing and interacting comfortably up and down the organization etc.

2. Value Proposition: The value proposition would depend on the function and industry. For example, an independent sales rep might be able to report having an extensive database of C-level contacts in Fortune 100 companies and a strong closing ratio. Both would be highly valuable to the right company.

3. Turn Your Liability into an Asset: Entrepreneurs may also find that the very fact that they have a mindset of taking a great idea and commercializing it in the form of a viable long-term business is valuable to the right kind of company - a mid-sized to large company that has institutionalized an intrapreneurial approach in some or all of its groups - or - an early-stage company or startup that is looking for proven entrepreneurial talent.

Because it's a harder sell than making a move as an employee, the entrepreneur must nail these new aspects of their personal brand - both in their networking and in their resumes, cover letters and other marketing materials.