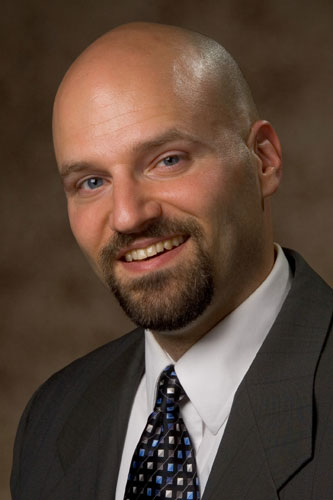 Photo courtesy of Mat Robinson of Enduring Images Studio
Having the right kind of photo on your LinkedIn profile can create a more personal connection with the employer or recruiter who views it. Even your executive resume will will be read with more interest if the reader has a mental picture of you. A properly lit, well-dressed photo of you can enhance your written profile and assuage any concerns that might arise if you don't have a profile!


You'll want to use a professional quality headshot, not an angled picture that you snapped with your cell phone in front of the bathroom mirror, and not a Facebook profile picture of you out on the town. If you can't afford a professional, then find a friend with a digital camera who knows how to point and click.
Use good lighting. After all, the place you will be working in will have proper lighting, so your picture should show a fair representation of what you look like.
Use a neutral background with solid colors. You don't want to have a photo with too much background noise or cutoff heads floating around.
Dress for success. If you are applying for an executive or managerial position, have your collar pressed and your tie straight.
Have the photographer try to capture some of your personal brand attributes in your expression. They may include one or more of the following: leader-like, sincere, assertive, strong, charismatic, steady, creative, humorous, outgoing, confident, etc.
If you are worried about age discrimination, then feel free to touch up the gray hairs and use a healthy layer of foundation for a youthful and energetic appearance.
Finally, try to look as up-to-date as possible. This means having your hair style and your clothing style current.
See how great a professional headshot can be by viewing the image in this blog post. If you are in the New Jersey/New York area, contact Mat. Otherwise, try to find someone whose work looks great close to home.
Having a high quality photo for your LinkedIn profile can draw the viewer in and prompt a contact with a recruiter or hiring authority.