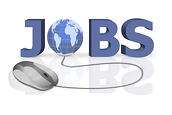 The world of job search is a little like the current Republican race for the presidential nomination: the lead contender is constantly shifting. In job search, although networking has always been king, the ways to do it are constantly evolving along with technology.
While searching for a job and applying online through big boards was judged to be a worthwhile activity some years ago, now there are new big kids on the block: LinkedIn, Facebook, and Twitter, in that order.
What do we know about how effective job boards actually are at yielding new hires? Richard Bolles in What Color is Your Parachute 2011, as reported by the Wall Street Journal, estimates your job board success rate at 4-10%. CareerXroads found in a 1/2011 study that 25% of hires from external sources come from job boards. Why the difference? One reason is that a lot of hires come from within a company or from employee referrals, so a correspondingly higher percentage of hires come from job boards.
Still, whether the number is the 1% (est. # of hires from Monster.com), the 4-10% or the 25%, spending your time on job boards is not the best use of your time.
However...you will still find many (most) of job seekers spending a lot of time on job boards. So what is the seductiveness of using job boards?
It's easy. You can roll out of bed and open your favorite job boards and see some that look good to you. You don't have to pick up the phone and cold call or even call a networking contact.
It's simple. The jobs give you title, often name of company, job description, requirements, and instructions for applying. You can form a picture in your mind of the job and of you doing it. You don't have to network your way into an organization seeking one of the hidden jobs whose names or requirements you may not know.
It feels proactive. You can submit your resume to any number of positions and feel a sense of accomplishment (whether warranted or not).
You can do it when you feel tired or discouraged. Job search is so hard. Let's face it. Networking, whether traditional or enabled by social media, requires enough moxie to actually do it. You may not always have the energy or the courage at that particular moment.
Betting is fun. Yes, you say to yourself, the percentages don't look great, but I just might be one of those who gets hired this way.
I actually think these are all acceptable reasons to give job boards a shot, particularly the niche job boards or company job portals. Even though the percentages are dwarfed by the other, more effective methods, THERE ARE TIMES WHEN YOU NEED A BREAK. No one can be on their best game 100% of the time. It's simply not possible. Why not use the slack time to surf the boards and apply to a few jobs? It's a better bet than playing Angry Birds.
Just as the food police say that eating healthy fats should be a modest part of one's daily diet, so keeping an eye on job boards specializing in your function or industry can be a small part of a highly effective job search campaign. So keep networking and leveraging social media, but, when you need to, relax and do what's easy. Happy New Year!