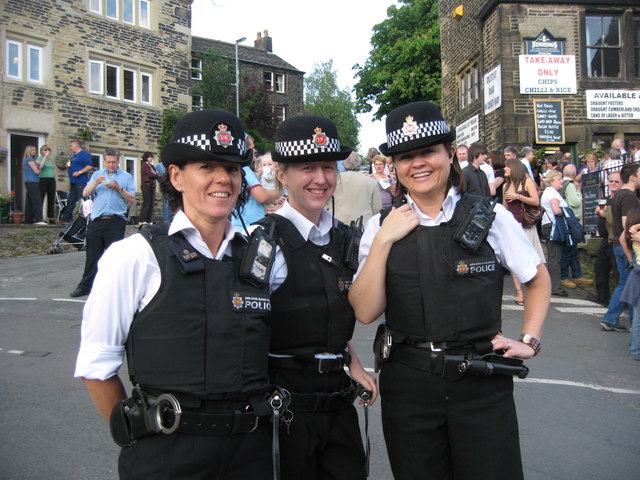 Image attribution: http://www.geograph.org.uk/photo/453998
One great thing about holidays like Labor Day is the chance to get together with new folks as as well as old friends and family. I met a new person at a party this summer I'd like to tell you about.
A strong-looking woman in a khaki shirt buttoned up to the collar and khaki pants sat next to me at the picnic table. She was there with her husband and son. The food was great, and we chatted on about various things, including her family's involvement in the Boy Scouts of America. I enjoyed speaking with her. She was forthright, firm, and direct.
Later on at the beach party I happened to be talking to one of her relatives. He told me a story I'll never forget. He said this:
"You know Rose is a policewomen, right? (I didn't, but her no-nonsense demeanor made sense now.) Last week she responded to a 911 call and as she was approaching the house she smelled gasoline. Without hesitation she charged in and pulled out a woman and child. Within seconds the house was in flames and the abusive husband was dead."
That's what I call a personal brand story! Anyone who knows it would probably respond to a question like, "Who is Rose?" or "Would you recommend Rose?" by recounting this story. To learn more about personal branding click here.
Most of my technology executive clients don't have direct life-or-death stories, but their brand stories and the C-A-R (Challenge-Actions-Results) success stories that demonstrate their brand are often high-impact in their business environment. Examples include directing information security in a mission-critical financial services environment, managing the EMR (electronic medical records) and technology environment impacting patient outcomes in healthcare, or enabling a company to beat its competitors in terms of time to market with a new emerging technology product or service.
To show you how to write a less dramatic brand story, here's another example with the name and other details fictionalized but the story line true. This is what someone might say when asked, "What does Juan do?"
"Since Juan and I were at Georgia Tech together he's been involved in some cutting edge businesses. First he grew a startup VAR company to compete with the big players in Puerto Rico. Then, he saw the disruptive potential of cloud computing and SaaS in the mid-2000s, before most companies got onboard, and he launched a cloud services company. He was recruited away by X company (F50 well-known brand) to run their S. American sales. He left there to help Y company (early to market with cloud tech) jumpstart their S. American sales. It seems as though Juan is always there where change is happening in tech. Everything he touches turns to gold."
It's a longer and more complex brand story, but one that nevertheless gives the listener a sense of Juan. It has a beginning, middle, and (for now) end. We learn about his attributes, his passions, the universe he plays in, and his value proposition. It tells us he is most likely a fluent Spanish speaker and highly entrepreneurial. He's not afraid to assume and manage risk in fast-changing markets. And he's got a record of success and an ability to predict market trends and act on that insight.
Getting your brand story up on your LinkedIn profile and supporting it with success stories is one of the best marketing moves you can make. Infuse your resume with these brand/success stories as well. Because stories have been demonstrated to be many more times as memorable than simple facts, you are planting in your contacts' minds who you are professionally, your personal brand. Doing so will help you get the top job you want.