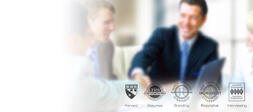 As a Boston resume writer and Certified Executive Resume Writer who has been active in the executive resume writing field for 21 years, I am now writing a radically different kind of resume. I call it The Executive Keyword Resume. It has evolved in response to two major systemic trends:
1. Almost all resumes are now processed electronically by ATS - Applicant Tracking Systems - and will only be viewed by a recruiter if the exact keywords are present in the resume, preferably in context. Additionally, competition is fierce due to almost universal Internet use and availability of massive data sets of qualified workers on LinkedIn, Facebook, Twitter and other sites. This fact drives the reality that only resumes containing all or most of the required keywords will ever be seen. No more is it good enough to simply use the main keywords for your field.
2. The time typical recruiters actually spend viewing a resume is now 5-6 seconds - I use the word "viewing" because "reading" is simply not the activity that is occurring! Recruiters focus on just a few areas: job titles, company names, dates, education, and key skills or areas of knowledge. Visually, are those areas the ones that stand out in your resume? Also, do you have a resume that looks familiar to a recruiter, that is, has the right standard headings for sections, information in the expected places, and traditional reverse chronological format? Summary at beginning is OK if so titled. But forget about functional resumes!
What does this mean for you? Simply this: there is no point in writing your resume in preparation for a job search. There is only a point in writing one particular resume for one specific job opening. Applying to 10 different jobs? You need 10 different resumes. And each resume you write has to pass the formatting test above in #2 as well.
The only exception to this rule is if you want a general resume to hand to a contact as a networking tool and don't have a specific opportunity in mind. I call this type an Executive Networking Resume. I make sure this resume has relevant keywords too, even though you can only guestimate them without an actual job requisition.
But this resume isn't the one that counts! Even if the networking resume ends up in the hands of HR and there is a job that might be a good match, it will be scanned into the ATS. Again, it will still be subject to comparison electronically with resumes that have the greatest number of exact keyword matches in context for the job in question. And yours surely won't be one of them. You cannot guess the exact keywords a job ad will contain.
I write IT executive resumes. As an executive resume writer in Massachusetts, a hub for high tech jobs, I work with a lot of clients who want to apply to 4 or 5 excellent job openings right away. A new part of what I do is identity the specific keywords and phrases in each job ad. I show my clients how to do this on their own so that they can independently proceed once we have done a couple together. And I can tell you that not only do the keywords differ from ad to ad, so does the title (and the title in the ad is most definitely a keyword!), even if the job responsibilities are roughly the same.
To find out how to write a resume that works with ATS see my earlier post. Other content in this blog will help you write your keyword resume and develop a personal brand that will help you stand out and give you a competitive advantage.
The takeaway here is: don't just write a resume, write a specific Executive Keyword Resume for any job you really want!