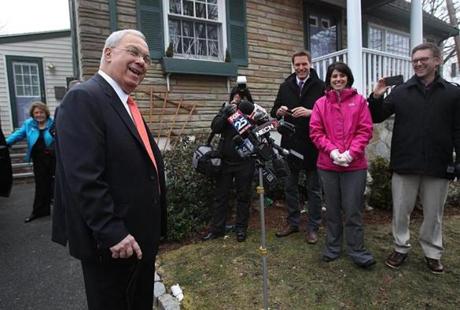 Mayor Menino in front of his home in Hyde Park section of Boston
Boston and Masschusetts were honoring the life of Mayor Tom Menino last week. It is said that he had met 60% of Boston's residents and had a hand in every building project in the city over his 20-year tenure and 5 terms. He was much loved - a man of the people - who loved his city and its people. His accomplishments were many.
One item struck me as the remembrances rolled in on the radio and - though slightly off-topic from what I usually write about here - I wanted to put it out there. It was that he continued to live in his modest house in the city neighborhood he started out in. We are used to seeing big names and their big homes. What does it mean that Mayor Menino did it differently?
These are musings on money and career - on money and values - on money and freedom - on money and retirement. In no particular order, these are thoughts that are prompted, in part, from having worked with so many people over the years at different stages in their careers experiencing those twin concerns of almost everybody: how to make enough money (whatever "enough" means for the individual) and how to be happy.
1. Why is it surprising that a prominant public figure like Tom Menino never felt the need to upgrade his house to match his increasing levels of influence, power, and compensation? Is it necessary to spend and own in keeping with one's level of career advancement? What does it mean when someone steps out of this lock-step advance?
2. What can we infer about Mayor Menino's value system? We can guess that he valued his feeling of home and neighborhood and that he didn't care about house pride and wealth demonstrations.
3. What kind of freedom does owning less in terms of possessions confer upon a person or a family? Is it worth giving up the possible benefits of more comfort, beauty, space, and status in one's property for the ability to live on less and then be able to choose a lower-paying job, if it provides more life satisfaction?
4. When we see celebrities like Mayor Menino and Warrren Buffett - both top practitioners in their respective fields - decline to purchase showy properties, what does it make us feel? It makes me feel that their work is something they do because they were born to do it - they love it and it allows them to be perfectly who they are. And it is not necessary linked to a need for impressive property ownership.
5. As so many baby boomers approach or select retirement, what do the issues of spending and lifestyle during the working years have to do with retirement lifestyle? I expect we will see many creative solutions where, because financial constraints will be the norm, people will develop innovative solutions for housing as well as for how to make those years fun and meaningful. Feeling free to step out of the realm of competition in housing/possessions will become key to retirement "success" for many I would guess.
6. Here is a common pattern I see in my increasingly wealthy town, understanding that this scenario is only avalable to the top few percent. People trade up houses 2 or 3 times to get bigger. more beautiful, or high-status homes. Why did Mayor Menino do it differently?
7. A final thought: since we leave this world with nothing, what part, then, do we want things and money to play in our careers and lifesyles during our brief span of life?
Best wishes for prosperity on your terms. I'd love to hear your thoughts. And thanks, Tom Menino, for your amazing contributions and for prompting these musings!