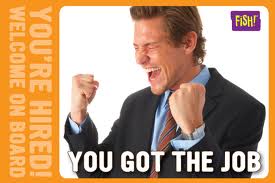 If, like most people in this brave new world of job search, you're pinning your hopes on sites like The Ladders and other job boards, it's time to shift your hopes to social media. Read Nick Corcodilos' take on The Ladders, a resource similar to a job board, in his Ask the Headhunter blog post to find out his take on that service.
Social media? You mean like Facebook?!? It's worth a shot, so is Twitter, but the big bonanza is with LinkedIn. Check out these stats from a survey by jobvite reported in CIO Magazine's blog post by Meredith Levinson:
63% of IT job referrals are shared on LinkedIn
18% are shared on Facebook
17% are shared on Twitter
63% of employers have successfully hired a candidate through social media
95% have hired someone using LinkedIn
With metrics like these, you can't afford to neglect the social media channel as an important component of your job search. Yes, networking (often leveraged by using LI's database and process) is still the boss, but, as an adjunct, do these things:
1. Put a complete profile up on LinkedIn including a professional photo - and make sure it's focused on what you want to do next and that it's on-brand.
2. Pay close attention to the keywords you use: they will determine whether a hiring manager finds your profile in a search.
2. Add some bells and whistles to your LI profile: links to other websites where you can be found online, a PowerPoint Presentation, a list of relevant LI groups you participate in, a video, etc.
3. Take advantage of LinkedIn job search tools and searches.
4. Consider whether you have the time to invest in Twitter and, if you do, follow thought leaders and contribute yourself.
5. Do the same with Facebook - remembering that your identity there has to be 100% clean.
Your online identity - what a hiring manager finds in a search of your name - is becoming increasingly critical, with 45% of employers saying they ALWAYS search someone's online profile before hiring them. Start with setting up or improving your LI profile, and good luck!